Hello! My name is Lisa Ann Hörst (pronounced "Hirst"), and I hope you find my web site both informative and inspirational. Though we may have never met, we are connected through our shared passion for golf. Over the last 20 years I have helped thousands of golfers improve their play through my unique "golf training" strategies. My comprehensive approach to elevating performance places equal emphasis on swing training, short-game training, mental training, and fitness training. I hope you read on and learn more!
I'm happy to announce the publication of my book, Golf Training: The Secrets to Effective Practice and a Lower Score (Finally!). Regardless of your age, gender, or handicap, this book will hand you the keys for unlocking a higher level of performance. I invite you to peruse some of the sample pages, read the advance book reviews, and if you like you can order a signed copy. Of course you are welcome to download some of my golf tips and images, and please feel free to contact me regarding lessons, corporate outings, or appearances. --L.A.
I'm happy to announce that I'm now the Teaching Pro at Meadia Heights Golf Club. Lessons are available for both members and non-members. Learn more>>
Read new article in Business Womans magazine (Feb. `08).
Horst Named to PA Sports Hall of Fame


Lancaster Intelligencer Journal 12.25.06 - A long, distinguished career on the links both playing and teaching golf has led to enshrinement for one local woman. Lisa Ann Horst, a local Class A golf professional at Leisure Lanes Golf Center and Groff's Farm Golf Club, was named to the Pennsylvania Sports Hall of Fame during a ceremony in Scranton Oct. 22. The induction came in recognition of the last 25 years she has spent actively involved in the game on more than one level. Read on >>
Check out my video tips on YouTube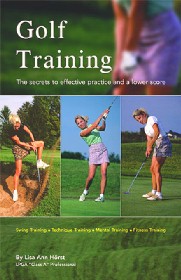 Golf Training is a tour de force of effective techniques to improve your play. --Dr. Joseph Parent Author of best-selling Zen Golf
Golf Training will positively transform your golf game! --Dr. Richard Fleming, UMassMed
Golf Training reveals that there is more to being a great golfer than having a perfect swing. Anyone who wants to improve their game can learn a lot from this book. --Karen Palacios Jansen, LPGA Teaching Pro
Golf Training is the most comprehensive "guide to better golf" that I have seen. --Tom Ferrell, golf journalist